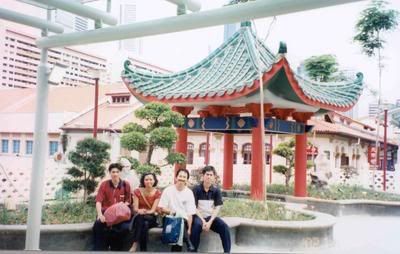 I stumble on this old picture of mine. This picture taken couple years ago. Those three men were good friends on the office, and we got invitation for some software days from our vendor in S'pore, and it was on my birthday. A fine gift from my Boss that time :) (oh boy... I miss him...., best Boss ever....)
So the time went nicely. For some reason, they got me a suite room on nice big hotel (which reminds me of korean series
Hotelier
). In the day, we went to the seminars. And in the night (and in extended days :p), we went exploring the city. The Park, The Quays, Orchard Road, shop, shop, shop, biggest Kinokuniya I've seen, Little India, China Town, Merlion and Esplanade, where I find coziest library! Those good old days......
Now, I just realized, that all if them have moved on. They had new job, new life, new experience. And some shadow that keep hanged in my mind seems get their form. I, also, have to moved on. There are nothing in this place worth fighting for. This is not my place anymore....
I had my decision, solid and clear.....