From the publisher :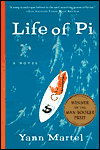 Growing up in Pondicherry, India, Piscine Molitor Patel -- known as Pi -- has a rich life. Bookish by nature, young Pi acquires a broad knowledge of not only the great religious texts but of all literature, and has a great curiosity about how the world works. His family runs the local zoo, and he spends many of his days among goats, hippos, swans, and bears, developing his own theories about the nature of animals and how human nature conforms to it. Pi's family life is quite happy, even though his brother picks on him and his parents aren't quite sure how to accept his decision to simultaneously embrace and practise three religions -- Christianity, Hinduism, and Islam.
But despite the lush and nurturing variety of Pi's world, there are broad political changes afoot in India, and when Pi is sixteen his parents decide that the family needs to escape to a better life. Choosing to move to Canada, they close the zoo, pack their belongings, and board a Japanese cargo ship called the Tsimtsum. Travelling with them are many of their animals, bound for zoos in North America. However, they have only just begun their journey when the ship sinks, taking the dreams of the Patel family down with it. Only Pi survives, cast adrift in a lifeboat with the unlikeliest oftravelling companions: a zebra, an orang-utan, a hyena, and a 450-pound Royal Bengal tiger named Richard Parker.
====================================
Reading Pi survival 7 month on the a life boat really amazed dan showing a quality of toughness and knowledge. But later on, when we understand his metaphore about broken leg Zebra, Orangutan and Hyena.... it really makes your heart rending.
If Coelho's
The Alchemist
write about a journey to grap a future, this book shows boldness to confront life chalenge of this moment. Personnal examination against ones sanity and fate to his God, outside the boundaries of religions.