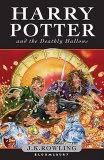 The seventh book proves it was worth all the waiting.
When every little secret are finally revealed, every little details are meaningful for they've carried a great meaning. Every character developed immensely, with their expectation and fear, with self responsibility and insecurity. And most of all, realizing that no one is perfect.
After four books, I assumed James Potter was a holly saint on the altar, a martyr for a cause. But then revealed that he was a kid torturing poor Severus. No wonder Snape reacted that way to Harry. And Dumbledore. What can we say about Dumbledore? He was a perfect wizard, until I learned about
the secrets and lies of Albus Dumbledore
. And I think those are the ones which make everything perfect. Those are the things that levitated these books from good reading materials up to unquestionably great story of our time.
PS:
• I think the Elder Wand reminds me a lot to
The One Ring to Rule Them All
– which are also one of my favorite. But the part of
The Wand chooses the Wizard
thing, and how Draco got involve in all of these without even knowing it, makes it unpredictably attractive. (A great little detail, for Ollivander had mentioned it in the first book)
• The chapter of
The Prince's Tale
is absolutely my favorite. It's like a missing link that would tied all seven books together. The sweetest love story which came from Silver Doe Prince, concealed deep down, under the debris of unforgivable words and a deed too little too late. Then he died while staring to the deep green eyes he always long for. It cannot be more beautiful that that!! (And again, a detail that makes it great)
• The later cordiality between Snape and Potters can't be described more meaningfully than the name of his second son....Albus Severus.
• When I read this book, I keep reminding myself,
he's seventeen, he's not a boy anymore, he's a young man, a very capable young man
. It just like yesterday that we met this eleven years boy, broken glasses, clumsy and uncertain. Not knowing how to enter Platform 9 ¾. And now, he's seventeen. OMG. I mean, watch the first movie..., Dan Radcliff and Rupert Grinn, cute little boys. And now, a handsome hunk on a kissing scene.... OMG!! I'm old, aren't I? Thank's to Harry Potter I'm seven years older than yesterday!!
Another posting about Harry Potter:
Harry Potter and the Half-Blood Prince
What Harry Potter's Character You Are??